donkyFliP's Master Recording of:
Porcupine Tree
The Fillmore, San Francisco, California
July 31, 2003
---
Return to donkyFliP's Porcupine Tree trade list.
---
Information
Right-clik on this link to DOWNLOAD the information file.
Source: Genuine Space Jewel Recordings GSJ-023
Equipment: Sony WM-D3 - &gt Cool Edit Pro - &gt mkw Audio Compression

DISC 1
01. Introduction
02. Blackest Eyes
03. Shemovedon
04. Gravity Eyelids
05. Banter
06. Futile
07. Even Less
08. Slave Called Shiver


DISC 2
01. Fade Away
02. Hate Song
03. Russia on Ice
04. A Smarth Kid
05. Strip the Soul
06. Encore Break
07. Wedding Nails
08. Trains
09. Exiting Music

MD5 checksum file information

DISC 1
70d1a3c144cca01067452417e40dcc11 *d1t01_Introduction.shn
75a25b291e64f39574b655096f802d5f *d1t02_Blackest Eyes.shn
604e948dc5d46f10b7ef401e271b390c *d1t03_Shemovedon.shn
2aa24adfd3372d65d369d50cad12ff41 *d1t04_Gravity Eyelids.shn
630b42cac723fdf2ef6ae60cd012fb63 *d1t05_Banter.shn
4da8752232290499299f4814553ba640 *d1t06_Futile.shn
f728be6fef15842c2bb2be7e2c9d29fc *d1t07_Even Less.shn
9649c89dab9addc42819a66f59d0ea8d *d1t08_Slave Called Shiver.shn


DISC 2
6ba80c4148c2ed16a1b9e0595c1a3d19 *d2t01_Fade Away.shn
c06bebce1d2d77389a1f17d31b75aa75 *d2t02_Hate Song.shn
adf1e81b786fc7b339baa2e2c6930a87 *d2t03_Russia On Ice.shn
7fe2d13a0485d7711c889583160f81af *d2t04_A Smart Kid.shn
1be6e5e6e7b12db6949a68d4bb3e494f *d2t05_Strip the Soul.shn
1e68b42b27fc58dd2ff67b3879e43583 *d2t06_Encore Break.shn
799a03568352e6e70f0ddc5c80ab4c45 *d2t07_Wedding Nails.shn
0befb76826b4547470787f1af091c943 *d2t08_Trains.shn
1af0d473eeeecda368e72cb0bbc8ee23 *d2t09_Exit Music.shn


Brought to you by: donkyFliP

**************************************************
KEEP THE MUSIC PURE
DO NOT CONVERT TO MP3
**************************************************


---
Return to donkyFliP's Porcupine Tree trade list.
---
Artwork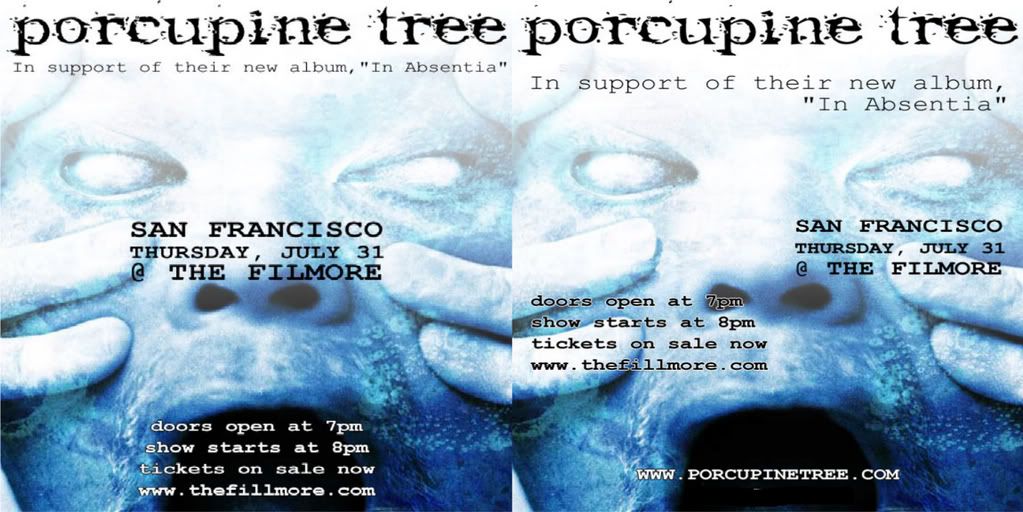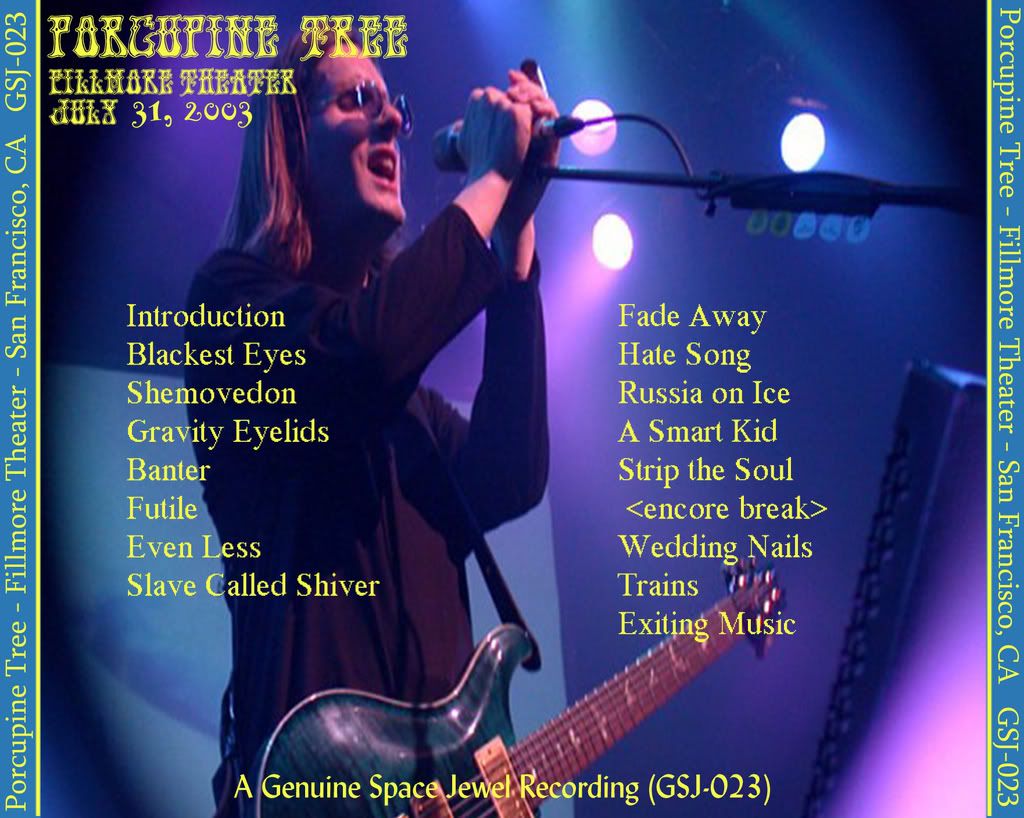 Artwork by donkyflip (copyright 2003, all right reservered)
---
Return to donkyFliP's Porcupine Tree trade list.
---